Welcome to my Web site!
I know that, as an Internet user, you like to check things out on your own. So, here's a summary of the information available under the above tabs...
Community Info - Overview of valley cities and valley activities plus community reports, city and zip code comparisons, and many links to valley and city demographics (especially La Quinta and Indian Wells), maps, visitor guides, the local newspaper, golf courses, etc.
All Listings - Besides my listings, you can access all of the valley's MLS listings and search them based on your own filtering criteria.
Home Values - After you find some interesting homes through All Listings, check out their value through this page. It provides data on the ten most comparable sales in the last twelve months. This page also offers a custom home evaluation done by Yours Truly.
Buying - Lots of general information about choosing neighborhoods, homes, Realtors® plus all about home inspections and bargaining. And there's more tools for home searches. But you certainly don't need to do all this on your own...I'm happy to be your guide.
Selling - Lots of general information about staging and marketing your home, setting a price, why a Realtor® is different from a real estate agent and how to select one. You can count on me to handle every aspect of your sales process - from strategically pricing and marketing your home to making sure everything's signed, sealed and delivered by the closing date. And in today's online era when the Internet has become the buyers primary source, I list your home on 198 sites including all the best ones. So whether you're buying or selling, feel free to contact me. I'm a "no pressure" gal - no sales pitch, just expert answers, solid advice and first-class Realtor® work.
Mortgage Information - Here's a couple of handy tools to calculate what size mortgage you can qualify for and, based on a variety of factors, what your mortgage payments and amortization would be.
About Me - And here's my not-so-humble assessment of why I'm the Realtor® you should have...along with some substantiating credentials and testimonials. Let me know if I can help.
Buying?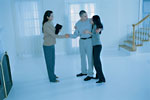 Whether you're looking for your second home, your retirement home or an investment property, I will provide you with the highest quality buyer service. When making this size of an investment, you need the best market information and the best advice available...both of which I provide. Read more.
Selling?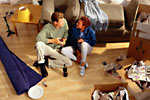 My extensive marketing and internet coverage, established networking, and solid negotiating expertise will ensure that you get the most exposure and the highest possible price for your home. I guarantee you will get the best professional, ethical and street-smart service. And I promise I will keep you fully informed every single step of the way. Read more.